School Work

Fall 2019
Starting Fall of 2019 I started a graduate program at California Institute of the Arts (CalArts) in the Herb Alpert School of Music. The specialization is Experimental Sound Practices with an added focus on Integrated Media. At the end of each semester I will post a brief summery of the work that I focused on.

This is the first.


---

Fantastic Mr. Fox Sound Design Redub
SoundImage One


The purpose of this course was to provide an introduction to the world of Sound Design with a final project consisting of redoing all sound in a 3-5m scene. This is my final, I did all the sounds.


---
Audio Projects

Field Recording Workshop
Periodically prompted permutations of sound.
Our prompt was to observe our everyday sounds and record two contrasting soundscapes. This recording was from the same place but at different times: Solano Canyon (Los Angeles) when nothing was happening vs. when a Dodgers game was happening (during & after).
We broke into assigned groups and went on a field recording trip around campus. Our task was to interact with an area and each make a recording. Then, we are free to manipulate the recording how we see fit. My group found a spot in the library where we hit shelves and its flotsam. I then took the recording and manipulated it with a modular synth.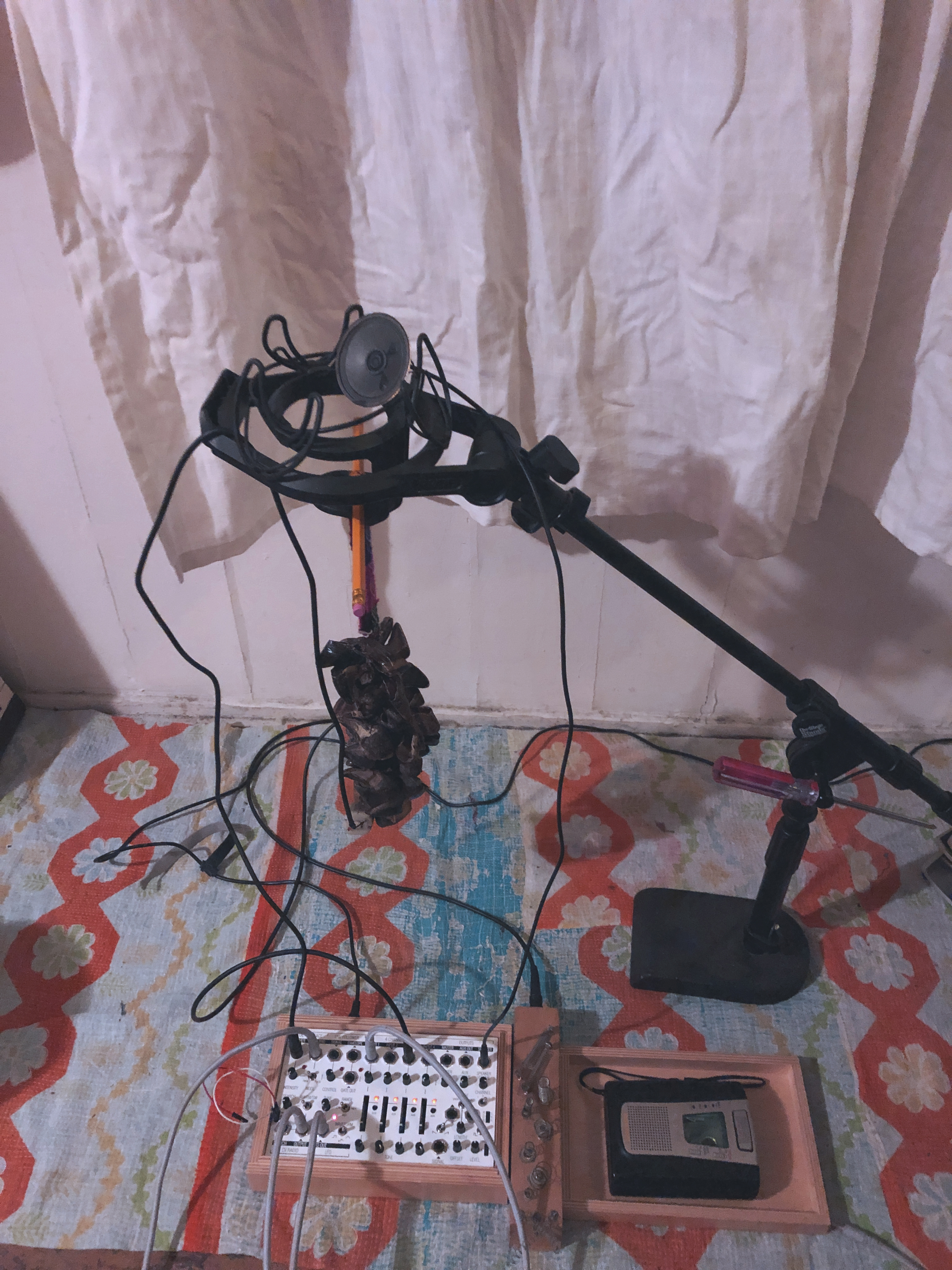 Our prompt was to be apart of the recording by activating a space and actively particupate in the soundscape. The constraints were much looser, so I recorded a bedroom electro-acoustic track. Using the Field Kit (KOMA Elektronik), I mixed radio, cassette loop, and a contact mic to a small speaker while a voltage–controled DC motor excited a string of hooves.
The final project was to simply have fun and explore, while using field recordings as the main feature. I used vinyl samples, cassette loops, dictaphone recordings, voice memos, and Zoom recordings meshed together.
---
Even 7
Composing for Improvisers
Even 7 is the title of an improvised piece I wrote which uses a 20 sided die to determine which graphic or diretion to perform.

Video of a realization of the piece


---
Live Performance


Throughout the semester, opportunities are given to perform. I was able to play twice, once for the program's ESP Night series and again for a memorial show.


ESP Night #1 – Collaboration with Shan Ni